Welcome to Newsline
The Forth Valley Talking Newspaper Association (FVTNA) is Falkirk's own Talking Newspaper for the blind and visually impaired. FVTNA is known to our Listeners as Newsline. This Scottish registered charity was established in November 1981 to provide a weekly audio recording of the Falkirk Herald to those who struggle to read the local newspaper.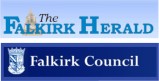 Since then the service has expanded to include a highly regarded monthly magazine and an audio version of the Falkirk Council quarterly newspaper.
The service is free to our Listeners as the recordings on USB Memory Sticks go via the Royal Mail 'Articles for the Blind' scheme postage free. Some new Listeners will have their own computer or equipment provided by the RNIB, etc. which will play USB Memory Sticks. If you don't and you live within the Falkirk area we can provide a USB Memory Stick Player.
The service is provided by a dedicated group of active volunteers who turn out in all weathers to read, record, copy USB's and empty and fill mailing wallets. Additional help is provided by Falkirk Soroptimist's and Grangemouth and Falkirk Rotary Clubs.


Read more about Newsline's History
If you require more information about our service we can be contacted on (01324) 228313 or by e-mail